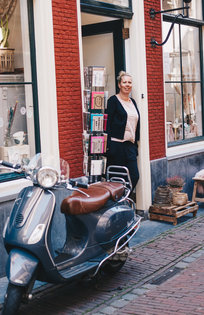 In one of the oldest alleys in the old town 'Pieterswijk' in Leiden you will find 'De Winkel in Leiden'.
Here you will find a mix of home decoration, like soft pillows, warm plaids, old cabinets, lighting, tableware, good candles and a lot of other lovely home accessories to make your house a warm and comfortable home. And there is a good collection of nice and original gifts for all ages, which are just a little different than normal. We are always hunting for new happy for a nice price. In the shop there is a comfortable atmosphere with a mix of Scandinavian influences, warm firm accents, a little vintage and brocante. It's not to explain, you have to see and experience it. The 'brick' shop opened in 2015, and in 2017 we managed to present a selection of our collection in our online shop.
Call our shop 'Serendipity' – a pleasant surprise or a fortunate coincidence. A shop that makes you happy and where you will find something new every time you are visiting.